What is the cost and how do I know my skill level?
To better assist in selecting a group that fits your current skill level, please see the descriptions below:


SOLD OUT - Intro ~ This is an introduction to mountain biking. This group is perfect for the first time rider who has never ridden on dirt trail or for someone who has maybe only ridden on dirt a few times. You are physically fit (or looking for a way to get there), adventurous and want to learn more about mountain biking. Don't have a bike? We offer FREE rentals to clinic participants.
- Beginner Criteria

* You have been mountain biking for at least one (1) year.
* You have decent general riding skills and good fitness, but lack the ability and confidence to tackle terrain beyond a beginner level.
* You have a basic understanding of braking, shifting and steering and can handle riding smooth dirt paths with few rocks, roots
and technical areas.
* You may be looking to improve your fitness and can only handle riding for a few hours before tiring.
- Intermediate Criteria
* You have been mountain biking for over two (2) years and have solid intermediate-level skills.
* You are comfortable with almost all aspects of mountain biking and can handle more technical terrain with rocks, roots and small logs
(up to 6").
* You have good control of your bike on intermediate to slightly more advanced trail and are comfortable climbing on non-technical single track.

* You are physically fit and can handle riding for several hours at a time.
~ you must be able to perform a front and rear wheel lift as well as ride logs up to 6" in diameter
SOLD OUT - Advanced Criteria
* You have been mountain biking for more than five (5) years and are confident riding all types of terrain and distances.
* You mountain bike often and can handle more advanced trail with medium-level stunts such as large log roll-overs and small bridges.
* You are comfortable with features such as switchbacks or rocky/rooty sections and can climb and descend on technical terrain.
* You can ride multiple days in a row and are looking to improve your skills with the encouragement and guidance of an expert coach.
~ you must be able to perform a front and rear wheel lift, bunny hop and drop off as well as ride logs up to 8" in diameter
NOTE: We strive to offer the most safe, responsible and effective guidance to all our participants. All riders must participate in a skills evaluation. Please read and understand the skill level criteria prior to registering. There will be NO REFUNDS given in the event you have signed up for a group that is above your riding capability and you are asked to move to a group more appropriate for your skill and/or fitness level.
What does my entry fee get me?

Clinic participants enjoy an entire weekend of camping, mountain biking, fun and friends!

Entry fee includes:
* Skills clinics by IMBA-ICP certified coaches and instructors on BOTH Saturday and Sunday for all levels

* Continental breakfast and lunch BOTH Saturday and Sunday
* FREE commemorative event t-shirt (available in Men's, Women's and Youth sizes)
* FREE participant on-site tent camping at exclusive event campground. Guest camping is available for $10/person per night.

* FREE commemorative event poster
* Access to Liv/giant Campfire Clinic
* Access to sponsor raffles throughout the weekend
* Naked Lady Party gear and clothing exchange
* FREE bike and product demos and more!
What should I bring for the clinic?
* Bike ~ Unless you are renting one. ~ Please make sure your bike is in good working order prior to the clinic.
* Helmet ~ You must have a helmet in order to participate in the clinic.
* Shoes ~ Gym shoes or clip-in bike shoes depending on your pedals. FLAT PEDALS ARE PREFERRED AND ENCOURAGED FOR THIS CLINIC.

* Gloves ~ Optional, but recommended
* Sunglasses/Sun Block
* Full water bottle or Hydration Pack
* SNACK FOOD! ~ Continental breakfast and lunch will be provided, however you may want to bring additional items. Kindly keep in mind that coffee and a single banana will only get you through the first half hour. Please eat!
* Extra clothing ~ Something you can change into when the day is over.
* Towel

Is there an age limit for this event?
There is no age limit for this event. Past participants have ranged in age from 12 to 67 years old. Participants under the age of 18 must have a parent or guardian on-site through out the clinic. Please keep in mind this is a long, hot day and may not be suitable for children with little to no mountain biking experience. You know your child's experience and limitations, so please keep this in mind when registering for this event. The 2013 clinic will once again offer a Youth Clinic for boys and girls ages 8-12 years.
I haven't been on a bike in years and I am horribly out of shape. Can I still do this clinic?
Yes. Even if you have not been on a bike in years, you can still participate in this clinic. The Intro group is a great way to get back on the bike or give mountain biking your first try. Instructors will teach you basic handling and shifting skills and drills on the pavement will give you the chance to get comfortable on the bike. Please keep in mind this can be a long, physically demanding day. While we do recommend some level of physical fitness, you know your body better than anyone.
I don't have a bike, but I would like to attend. Do you have a bike I can use?
Yes. From the beginning, we have always offered FREE rentals to our participants who don't have a bike or to those who would like to try an "upgraded" bike from what they are currently riding. Limited rentals are available from Bicycle Garage Indy and must be reserved in advance. Send an email to tsimeone@bgindy.com to reserve your FREE bike rental!

Do I need to sign up online or can I sign up the day of the clinic?
On-site registrations may be available if all spaces do not fill prior to the start of the clinic. Please keep in mind however the event has sold out and online registration closed more than two months ahead of the 2012 event. The best option is to register on-line in order to guarantee a spot.

Who will be instructing at the 2013 clinic?
The Midwest Women's Mountain Bike Clinic incorporates the teaching methods and techniques of the International Mountain Bicycling Association Instructor Certification (IMBA-ICP) program. Since 2010 all our coaches and instructors have been certified and we are able to offer the most consistent instruction throughout all skill levels. The event has featured internationally recognizes coaches such as Shaums March, Lindsey Voreis, Tammy Donahugh, Rae Gandolph, Angi Weston, Gale Dahlager and more!

Click here for a complete list of all 2013 coaches and instructors!

What is the best way to enter the park for the event? Where will the check-in be?
There are two main entrances to Brown County State Park; the North Gate entrance located just east of Nashville on Indiana State Highway 46 and the West Gate Entrance, located west of Nashville on Highway 46. CAUTION: If you use the North Gate Entrance, you must go through a covered bridge. Clearance is only 9 feet, so large trucks, vans, campers or RV's may not make it through. Also, if you have a roof rack with bikes or gear on top, BE AWARE THE HEIGHT OF YOUR VEHICLE. If your vehicle will not clear, you will need to use the West Gate Entrance. The Horseman's Camp Entrance on the south side of the park CANNOT be used to enter. This is for the horse camp only. Once in the park, follow signs for the Campground.

Event Check-in and Registration will be located at the Campground Recreation Building located just before the main entrance to the park campground.


Where is the best place to stay while I'm in town for the event?
If you like to camp, or want to give it a try!, the best place to stay is at the official on-site camping at the Rally Campground (Sites 1 thru 3) in Brown County State Park. Participant tent camping is FREE and guests are welcome for only $10 per person/per night (kids 14 and under are FREE!). Online pre-registration is available. State Park camping rules will apply. Quiet hours will start promptly at 11:00 p.m. to ensure everyone gets a good night's sleep. The camping area will open at 2 p.m. on Friday, June 9. Rally sites are non-electric, primitive camping. There are no water hook-ups, but water is available. Rally sites do not have designated parking pads and are first come, first serve. Picnic tables and campfire rings are scattered throughout the area. Firewood is available at the campground store.
For those not interested in camping, Brown County offers a variety of lodging throughout the area. The Comfort Inn in Nashville is the "official" off-site lodging location for the 8th Annual Midwest Women's Mountain Bike Clinic. Participants who stay at the Comfort Inn will receive a special discount for the weekend of the event. Rooms are available for $135.99/night (typically $179.99). Just mention you are with "SUB-9" when making your reservation to receive a special discount for the weekend. Call 812-988-6118 to make your reservation today.

BrownCounty.com is the best resource to find additional lodging, restaurants, or just about anything around the area, . Hotels.com is also a good resource for finding "chain" hotels in Columbus, IN (18 miles) or Bloomington, IN (22 miles).

Is camping restricted to just clinic participants?
No. Camping is not restricted to just clinic participants. We highly encourage participants to bring a spouse, significant other or friend along for the weekend. Guest camping is available for $10 per person/night. Children 14 and under camp free. Guest camping can be paid for onsite or in advance through the event registration page.

Are trails open to the public the weekend of the clinic?
Yes. Trails are open to the public throughout the weekend. With nearly 30 miles of trail (and growing,) the world-class Brown County mountain bike trail system has enough sweet single track to keep everyone occupied!

What are the Liv/giant Campfire Clinics?
These free clinics are open to registered participants only. Clinics will take place at the Rally Campground (Site 1) beginning at 7:00 p.m. on Saturday, June 8. Clinics are split into two groups (Intro/Beginner and Intermediate/Advanced) and will cover a variety of topics best suited for that skill level. Examples of topics are listed below:
Intro/Beginner Campfire Clinic: Intermediate/Advanced Campfire Clinic
~ Preparing for a Ride ~ Advanced Trail Side Repair
* Prepping your bike ~ Back Country/BOB Camping
* What to pack/wear * What to pack and carry
~ Beginner Trail Side Repair ~ IMBA Rules of the Trail
* How to fix a flat
* Hot to fix a broken chain
~ IMBA Rules of the Trail
What if it rains the day of the event?
THIS IS A RAIN OR SHINE EVENT! The skills taught at the Midwest Women's Mountain Bike Clinic can easily be done in a field or parking lot, meaning riding trail is not necessary. Brown County State Park has some of the best built trails in the Midwest and these trails tend to dry quickly, even after heavy rains. Unless there is lightning and a continuous heavy downpour the morning of the event, the clinic will go on.

I signed up for the clinic, but now I can't make it. Can I get a refund?
If you are not able to make the clinic, but would like to transfer your registration to another person, please send an email to info@midwestwomensclinic.com and we would be happy to make the changes.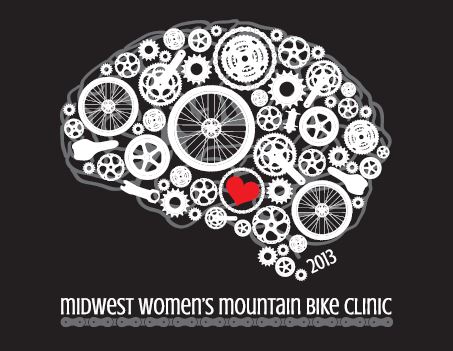 A full refund, minus a $50 administration fee is available through May 31. No refunds available for cancelled guest camping.

No refunds after June 1. No exceptions.

Event T-Shirts and Sizing
All participants at the 2013 event receive a FREE commemorative t-shirt as part of your registration fee. T-shirts are available in Men's, Women's and Youth sizes.

Additional t-shirts are available for purchase online for $20.

If you have a question that has not been answered in our FAQ, please send an email to info@midwestwomensclinic.com