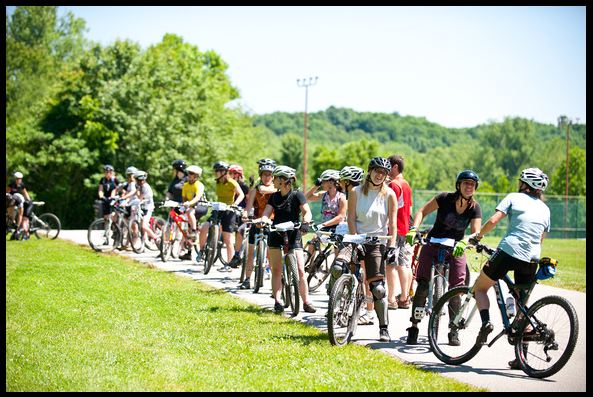 The 2011 Midwest Women's Mountain Bike Clinic was another huge hit! It's been amazing to see this event as it's progressed from that first clinic in 2005 with only nine participants, to this year's event which brought in nearly 130 women, men and kids, all looking to learn new skills and gain confidence on the mountain bike trail.

The Midwest Women's Mountain Bike Clinic is always a work in progress and with every passing year the event has grown and evolved. Each year we make changes and adjustments to offer a new experience and new challenges to event participants and the 2011 event was no exception! We work hard to build upon the successes (and sometimes failures) of the year before so we can continue to offer one of the largest and longest running mountain bike clinics in the U.S.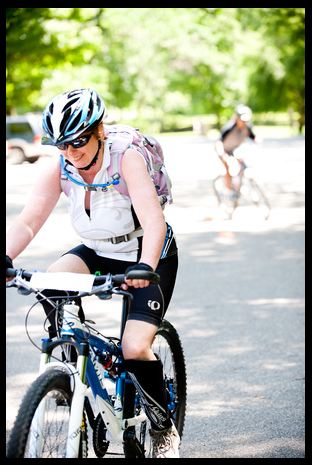 This year alone we:
~ added an additional half day instruction for Intermediate/Advanced women,
~ added a new Youth Clinic for boys and girls ages 8-12 years,
~ expanded the 2nd annual Men's Clinic to include novice to advanced riders,
~ introduced the new Campfire Clinics (presented this year by the Bicycle Station of Columbus, IN)
~ made our first effort at shuttling groups to help spread riders throughout the park for the trail riding portion of the event,
~ held a new creative writing contest with our friends at Girl Bike Love,
~ brought in more professional riders and instructors from across the country,
~ and much, much more!
Needless to say there are always a few kinks to be worked out and things to improve upon for next year, but we're sure that everyone had a great time, made some fantastic new friends and most importantly learned a ton of new mountain biking skills along the way! Kristie Warzala of Indianapolis, IN said, "Going mountain biking used to mean lots of bruises, scratches and crashes. After your clinic, mountain biking feels more like determination, adventure and progress (with the occasional bruise or two)."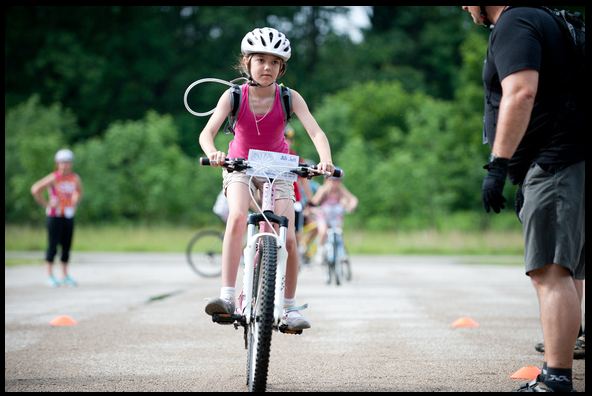 The 2011 event started out a little hot and steamy with the occasional thunderstorm, but by the time the Youth Clinic started on Saturday morning the skies cleared, temps dropped and participants enjoyed some of the most beautiful weather we've had so far this year!

The Youth Clinic welcomed boys and girls from across the Midwest and gave them the opportunity to learn from professional mountain bike coaches in a fun, safe and relaxed atmosphere. Participants spent the morning learning their basic mountain biking skills before hitting the trail and returning to the campground with huge smiles and lots of great stories to tell.

The Men's Novice to Advanced clinic was up next and nearly 20 men were given the chance to ride with two-time Downhill Masters World Champion and IMIC Master Coach, Shaums March of Squamish, British Columbia, Canada. Alan Edgar of Yorktown, IN said, "Besides the excellent knowledge and skill, working with a nationally recognized professional was motivational." The men spent several hours working on drills from the basic fundamentals to more advanced skills like high speed cornering, front and rear wheel lifts and more.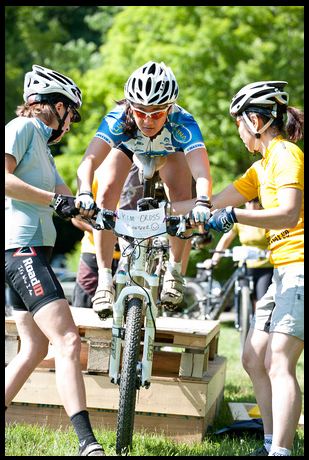 For the first time since the clinic's inception an extra half day of instruction was added on Saturday and nearly 60 intermediate and advanced women spent the afternoon covering the basic fundamentals of mountain biking with our IMIC Coaches and Instructors. Some ladies were refreshing their skills from the 2010 event while others were learning the IMIC techniques for the first time. The additional half day of instruction allowed participants to prepare themselves for the more advanced skills and trail riding on Sunday.

But it was Saturday evening that really brought the folks together. The festivities began with a huge cookout for participants, volunteers, families and friends. Everyone enjoyed the down time after the clinics to talk about their experiences from earlier in the day and even practice a few new moves while the burgers and brats were cooking. A huge thanks to our grill master, Kirk Wheeler, for once again knowing how to feed a group of hungry mountain bikers! While folks enjoyed the good food and complimentary beer from Upland Brewing Co. (Bloomington, IN) pro-rider and IMIC Level III Coach, Tammy Donahugh, talked briefly about getting involved with your local cycling group or club and gave a few tips on trail "etiquette" based on some of the IMBA Rules of the Trail.

Following Tammy, the Bicycle Station from Columbus, IN, hosted our first Campfire Clinics and participants split into two sessions based on their skill level. The Intro/Beginner groups covered topics like how to fix a flat, preparing your bike for a ride and a few of those fun facts that no one ever tells the new riders (remember what you were told about your shorts ladies!). The Intermediate and Advanced gals were met with a few more challenging trail side repair tips and even learned about back-country camping with your mountain bike. The evening wrapped up with lots of laughs and plenty of good times. Some of the ladies even broke out the hula-hoops and continued the festivities well into the evening.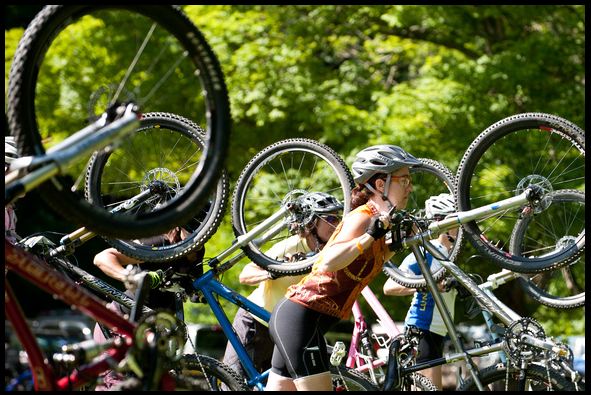 Sunday morning saw another beautiful day and clinic coaches and participants were welcomed with a complimentary continental breakfast from Subway while they waited for the clinic to begin. Once everyone had arrived, groups were split and Intermediate/Advanced gals re-joined their groups from Saturday. The Intro and Beginner women met with their instructors for the first time and began learning their basics.
When the morning session was over participants, coaches and volunteers took a much needed break for lunch and to refill on Subway sandwiches, fruit, yogurt and more. Once all the groups had returned and everyone had a chance to get their sandwich, it was time to start the sponsor raffle and Naked Lady Party. Each year our sponsor support continues to grow and we have been blessed with the problem of having so much stuff to give away! We tried something new for the raffle to help with our time constraints and while it didn't quite work out as planned, every participant walked away with a bag full of goodies from our event sponsors and at least one new article of from the Naked Lady Party! A huge thank you to all our event sponsors and supports who's generous contributions help to make this event such a success!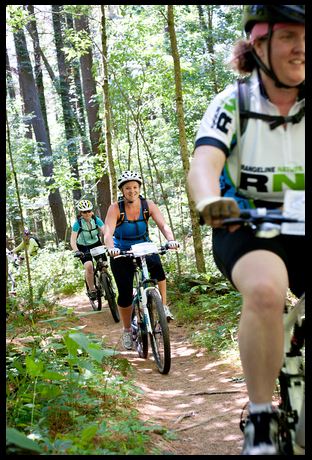 After lunch, the remainder of the afternoon was spent on the trail where riders were able to put their new skills to good use and participants enjoyed the world-class Brown County mountain bike trail system. Some riders even got the chance to check out the brand new 4 mile Green Valley loop that was opened just DAYS before the clinic, giving riders nearly 30 miles of trail to enjoy! For many, putting their new skills to use on the trail was the best part of the day. PJ Barton of Westerville, OH said her favorite part was, "stopping on the trail at specific obstacles and having the instructors take as much time as each girl wanted to achieve her individual goal."
We want to thank all of our coaches who traveled from across the country to volunteer their time to share their knowledge and experience with riders of all ages and skill levels. The 2011 clinic participants received the most professional and consistent level of instruction we've ever been able to provide and as Kim Walls of Brookfield,WI said, "Using the IMIC teaching methods and having all certified coaches is what makes this event stand apart." We're already working on ideas to make the 2012 event even better and we can hardly wait until next year to bring everyone together and do it all over again!
We are also so thankful for all our volunteers who helped us throughout the weekend. We greatly appreciate everyone's support, from the Louisville ladies with Team Fleur de Lis to the fellas from the Chicago Area Mountain Bikers, and everyone in between... you all helped to make this our largest and most successful clinic so far and we can't thank you all enough! We hope to see many of you on the trails and hopefully again next year for the 2012 event!